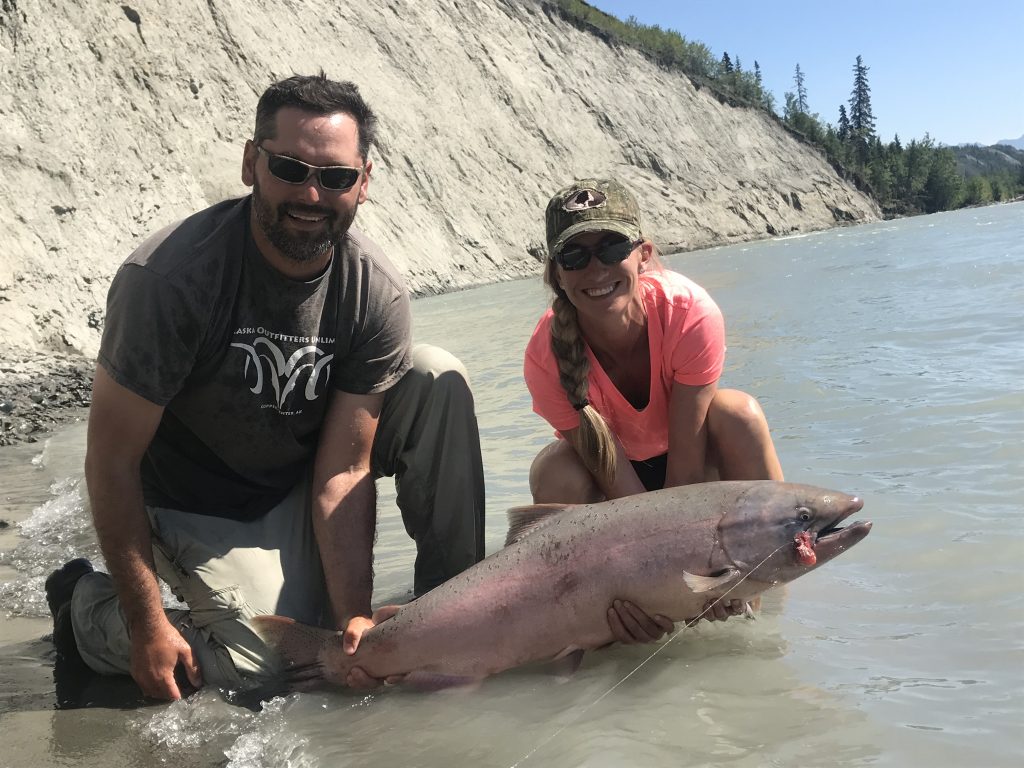 Copper River Valley Freshwater
Fishing with Fishing Bug Charters
We've spent the last 19 summers fishing the giant king salmon of the Copper River. These fish take everything an angler can throw at them. Our specialized jet boats can get you to waters that few anglers see, allowing for an Alaskan wilderness experience unmatched by other guide services in the area.
Our Copper River Salmon trips depart from our "home base" in Copper Center, AK. We have cabins on the Klutina River if you would like to stay overnight or make it a multi-day adventure. We fish 5 tributaries of the Copper River, three of these are virtually guaranteed to be totally free of other fishermen. We also offer raft fishing for those that would rather have an adventurous float than a noisy boat ride. Our primary quarry is the King Salmon in June and July, ranging in size from 20 to 60#. Sockeye salmon are often caught incidentally and may be targeted if there are many around.
Maximum number of seats available per day in each jet boat and raft is four (4)
The boats are able to accommodate a few more bodies if your party is slightly larger. Please email us in advance to inquire before proceeding with an online booking of more than 4 people.
Full Day Salmon Fishing (Klutina or Gulkana Rivers) $350/day
Full Day Salmon Fishing (Remote Rivers) $400/day
Salmon Fishing w/Lodging & Meals $550/day
Five Day Remote Float for Salmon and Trout $3,000
We would be honored to share these experiences with you. King season is limited and boats can fill up fast so don't delay!
Book Your Reservation Now, or Get in Touch with us to discuss your Copper Valley King Salmon Fishing Trip!